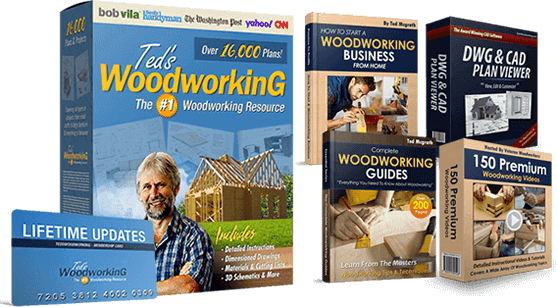 WHY AM I DOING THIS REVIEW ON TED'S WOODWORKING?
As many of you know, I like to be thorough, honest, and upfront about the products I review so that you can make an informed decision about the product before you buy it or pass it up. So, is Ted's Woodworking a scam? Why do a review on Ted's Woodworking plans, and what does that have to do with Veterans? Read on, my friends!
The short answer is no. Ted's Woodworking is not a scam. I bought it, I used it, and I liked it (see pictures of my completed projects throughout this article). So, I decided to write a review on it. As for what this has to do with Veterans, many of us are still trying to figure out what we want to be when we grow up, and Woodworking can be an excellent way to make a living or supplement our retirement. Others of us need to find things to take our minds off of the past.  If you are thinking of starting a woodworking business, check out these tips for creating a small business.
WHY DID I BUY TED'S WOODWORKING?
Some of you may not know this about me yet, but I have an MBA, have been self-employed since I retired from the Army, and I have a bit of a business mindset. So, a while back, my oldest brother David and I had a conversation about Woodworking. He was contemplating quitting his job and becoming a full-time woodworker and wanted my advice on the matter. Here is some of his work:
I have to admit, the man does AWESOME work, and anyone who bought anything from him would agree with that statement and would not be disappointed. As you can see, he incorporates a lot of epoxy and resin into his woodworking—way beyond my skill set. I am not an expert woodworker with a shop full of saws, lathes, planers, and routers. But, I enjoy working with my hands, and I had a few "honey-do" projects that my wife had been bugging me to do, and this conversation piqued my interest. Unfortunately, I don't live close enough to my brother to have him do the work for me, so I headed off to the Internet to do some research and ultimately decided on Ted's plans.
I won't bore you with the details of why I chose Ted's plans rather than some others out there. But, I will tell you that there are plenty of people that think Ted's Woodworking is a scam. I will debunk many of those rumors and opinions in this article. So, without further ado, here is my review of Ted's Woodworking Plans.
Rumor #1 – "Ted's Plans are a ripoff." FALSE.
Check out this FREE BOOK to decide for yourself.
Everyone is entitled to their opinion, and I believe that rumor is false. As I mentioned, I am not an expert woodworker, so I am sure that lifelong carpenters and woodworking gurus will have more critical opinions than I do on the subject. But, is Ted's Woodworking plans worth the price? Even if you only make a few of the plethora of projects available in the kit (like I have so far), it is money well spent. Not to mention, there is a 100% money-back guarantee, so if the scam claims were valid, I could request a refund.
I read a review written by a woman who claimed to be a kindergarten teacher that became a stay at home mom. In her review, she openly admitted that she did not have time to research woodworking plans. However, looking at her website, she stated that her job is to "conduct in-house product research." If that is her job, why did she not "have time" to spend on this product? (Red flag alert!)
A deeper dive into her review showed that she is an affiliate marketer, and she was advertising a different woodworking program with an affiliate program of its own. NEWSFLASH! Your review just lost a TON of credibility in my eyes.
NOTE: Speaking of credibility, I also found a review by a high school woodworking teacher that had purchased Ted's plans, and guess what? He did not think this was a scam either. He uses many of the projects in the classes he teaches at the school.
Rumor #2 – "TED" is a fraud scamming an illegal offer. FALSE.
First, I am no lawyer, and I don't know for sure if this program is legal or not. Accusing Ted's Woodworking of being "illegal" is a severe allegation. This product has been around for YEARS. They are a top-rated and successful company that I am sure a lawyer would love to pounce on if there was a legitimate case against them. One review claims that Ted's Woodworking Plans are "stolen" and negatively impact 237 different woodworking companies. I wonder how many companies Amazon "negatively impacts" by being top-rated and successful.
What laws are this company breaking, and why has there not been any action taken against them yet? It makes you wonder. If "Ted" is breaking laws, those affected would take legal action.  However, they have not.  Ask yourself why that is. You'll have to decide for yourself. The fact that you are here is a sign that you do your due diligence, so congratulations on that either way!
Rumor #3 – "Ted" doesn't exist. PROBABLY TRUE. (UNKNOWN)
DOES "TED" EVEN EXIST?
Truthfully, probably not. Because of all the sketchy reviews and scam claims I found, I decided to do a little digging myself (as you may or may not know, I used to be a contract background investigator?) Based on my findings, "Ted" is probably a fictional character or a pseudonym or a pen name created to protect his or her privacy. It is common for someone to use a pseudonym when they feel like their real name is not attractive or "doesn't fit" their product.
Would Marilyn Monroe have become as famous as she is if she had stayed Norma Jeane Mortenson on the screen? Maybe, maybe not. Either way, "Ted" was probably selected as a name for marketing purposes rather than identifying a real person. While many people may feel cheated by this tactic, it didn't bother me because I understand the business benefit of a name, and the fact is, regardless of what you call this company/person, the name DID NOT change the product in any way.
Rumor #4 – Ted's Woodworking plans are "Too Good to be True." FALSE
OK, here's the deal with this one. This product is not perfect by any stretch of the word, but it is good.  Again, please don't take my word (or anybody else's) for it.  Check out this FREE BOOK to decide for yourself.
Are there 16,000 plans included? I have no idea. I wasn't about to try to count them all. Suffice it to say; there are A LOT of project plans included in this product.
Are they all step-by-step? No. There are plans designed for all skill levels, from beginner to pro. So, even though the website says, "skill level doesn't matter," not all of these plans are suitable for beginners, and many professionals do not want or need step by step plans. Don't worry, though; there are plenty of detailed, step-by-step plans included (see my screenshot sample of one such plan below.)
You have to keep in mind that this is a vast collection of different plans for various products. Unless you plan to turn this into a business, you will probably never build most of these projects. BUT, if you create even just a few of them, you will save enough money to make this purchase worth the cost.
Rumor #5 – Ted "stole" these plans from other sites. PROBABLY TRUE (Unknown)
Are the plans original or "stolen" from other sites? I don't know if "Ted" is doing anything illegal or not, but the fact of the matter is that any digital product you find, anywhere, could be "stolen" from somewhere else. He could just as quickly claim those other sites stole the plans from him. Sure, you can find most, if not all, these plans in various universities, websites, books, and magazines for free if you want to spend the time digging for them.
Either way, his site has not been shut down, leading me to believe that he is on the up and up. Whether they are all 100% original plans designed by him or not is irrelevant. If he wants to take the time to consolidate all of these plans and videos in one convenient location for my use, it's worth the price to me.
Should I buy Ted's Woodworking?
That depends. If you like the occasional DIY project or dabble as a hobbyist woodworker, this is an excellent addition to your arsenal.   Ted's Woodworking categorizes most of the plans as "beginner," "intermediate," or "advanced."
Plan categories (with multiple plans in each) include:
If I Buy it, How Do I Get it?
There are multiple delivery options for this product.  As a series of downloadable PDFs, you log into your account, locate the plan you want, and then you can download it. They also offer a DVD, but that is an additional $19.95, and I did not order that, so I can not provide you with any details on its quality.
Check out this FREE BOOK to decide for yourself.
Pros:
Very well organized – Includes categorized plans and a well-organized, easy to use member area.
Excellent Value – If you complete one or two of the projects presented in this program, it pays for itself. There are tons of good quality plans from which to choose.
Some Great plans – If you have something specific that you plan to build, chances are you will find a design for it in this program. Some of these plans are definitely worth making and potentially reselling; the Loft Bed, for example, is AWESOME!
Convenience – Remember, it is a digital download, so it's completely portable. You can download the plans on your phone or tablet, or you can print them out.
Inspiration: Not sure what you want to build? No problem, scan through the categories for inspiration. Having everything consolidated into one easy to navigate location is inspirational in itself and helps you come up with ideas you never imagined.
Cons:
The Videos – The video are just poor marketing. Granted, they are a bonus item and don't cost anything, but I still believe that the product is better without them than with them.   They added a hodgepodge collection of YouTube videos to the members' area, but they're not worth watching. You can find much better ones out there if you want videos. Fortunately, we bought this for the plans, not the videos!
Some downright awful plans – As with anything provided in mass quantity, you get some rotten eggs. Some projects in this program are downright awful. That means you will have to spend a little time filtering through them to find the high-quality one you want.
Conclusion:
All in all, I am happy with this product, and I would recommend it to others. I have completed several projects (shown below) using the detailed plans provided. If I need inspiration for a gift idea or want to build something, this is a great resource to use.